Dashboard Widgets
LinkConverter: converts

file://

links from Windows into Mac format
EasyForm: use this widget to easily create an own formular widget
Disclaimer
All widgets on this page are distributed as freeware. By using these software products, you agree to the terms that the author cannot be held liable in any way for any problems or damages caused by one of these widgets.
System requirements
These widgets work only with Mac OS X versions prior to 10.8 Mountain Lion.
LinkConverter
In a mixed Mac and Windows environment, you might receive e-mails from your Windows colleagues containing links to files that are located on a file server (often with prefix file://... or <\\server\share\...).
Unfortunately, these links do not work on Mac OS X - even if the file server is mounted on your Mac. So I wrote this Dashboard widget that converts Windows type links into Mac OS format and opens the linked file if you want.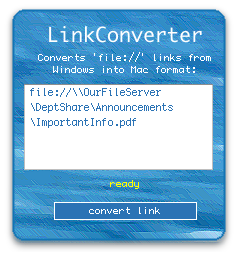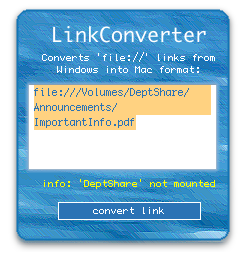 Installation
History
V1.20 - adaption to new Dashcode version
V1.11 - support for links containing %5C instead of \
V1.10 - localizations for English, German and French
V1.00 - first release

EasyForm
If you want to set up a widget with an own HTML formular, until now you had to create a complete widget with all the stuff needed for it. With the EasyForm Widget, you can simply paste the HTML code for the form, add two modifications and that's it - your own formular widget is there!
Installation
History
V2.10 - adaption to new Dashcode version.
V2.00 - enhancements and fixes
V1.01 - minor cosmetic change
V1.00 - first release incl. localizations for English, German and French

Last update: 11.10.2012